Calle Crisologo is a "must be" in Vigan City. The street was named in honor to their Political Clan that served the city and the province of Ilocos Sur for generations. It is famous for its remarkable restoration to its Spanish colonial era look. It also houses to a numerous shops and stores of sovienier items and food. One of which is the Bagnet.

In simple terms,if chicharon is to pork cracklings of pork skin and with a little fat, Bagnet is a pork crackling with its skin, fat and meat intact. It is boiled, air dried and fried two to three times until the dessired crackling effect on all parts.

and yes! its full of fat so its sinful and full of guilt. dont tell me i did not warned you.

Background of the Entry:
I got my first digital (point and shoot) camera last September of the year 2007. I dont have a blog site yet but I do have a multiply site since January of 2006. My blogging started August of year 2008. In between those dates, I captured many photos of places, food, events and virtualy any thing that my heart desires on that time. Blogging those photos was my primary reason why I captured them. Blogging on those times was kind-a difficult for me for I dont have the means. So im reviving my old food photos to make these entries.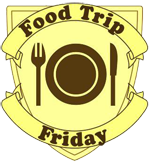 ---

Photo herein is captured using
Kodak KB85
Calle Crisologo
Vigan City, Ilocos Sur, Philippines