28 March 2013 - Maundy Thursday
Laguna, Philippines
Together with my friends in the CFC Singles for Christ, we went for a church pilgrimage. We visited 7 churches in the Province of Laguna. Sadly, our 14 churches did not push thru due to time constraint and I also suggested that we will not take the inner towns for our safety. Safety in the sense that: one of our drivers is not at good night and provincial driving and; all of us don't know the way, we all just relied to the directions locals give. But in general, we all are satisfied and enjoyed our trip. Here's the story.
Preparations:
Some of my friends planned of this trip about weeks before the Holy Week. I was hesitant that time to join but on the eve of the trip, I eagerly asked the details and joined. After some problems on the vehicles to be used, there was one who joined and volunteered his car thus we now had 2 cars with 5 pax each. We met at the meeting place at 5am and left after 30 minutes. Gas up to full tank, offered our prayers and water bottle handy and we are all prepared to go. Both cars fetched one passenger and went to the next meeting place, a gas station along South Luzon Expressway (SLEX) to gather up (roll call) and breakfast. On this time, we are now a total of 3 cars with 5-4-2pax respectively and another car with 2pax on the way.
The Itinerary (the Visita Iglesia):
The original plan was to travel to 14 churches. Our main guide who made the itinerary handed out maps and all towns to be visited are numbered. It's a fact that this day is an Exodus to Filipinos - to go home, to visit family afar, to have a vacation and also many like us will visit churches. In short, we arrived at Calamba Exit in about 1 hour from the 2nd pit stop then heavy traffic along the town of Los Baños, after that we proceeded smoothly until our first destination, the church in the town of Pila. BTW, before we go on, one of the rules of the church that "to cover all images (statues) during Lent" thus the altars pictured herein have covers in the altar. On each church, we will recite the two "stations of the Cross" so that we can complete it after 7 churches.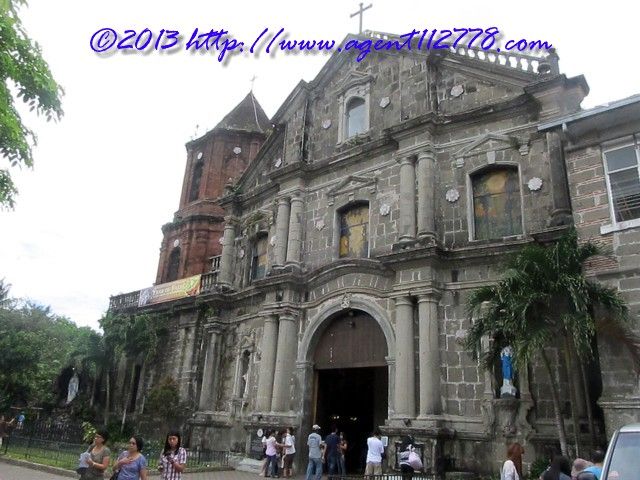 St. Anthony of Padua Chruch, Pila, Laguna
After here we went to the Town of Magadalena. Going there, based on the map is just left of Pila, but we are wrong, we need to pass thru towns of Sta. Cruz and Pagsanjan just to be in Magadalena. Just the we realized that it this town is considered inner part of the province.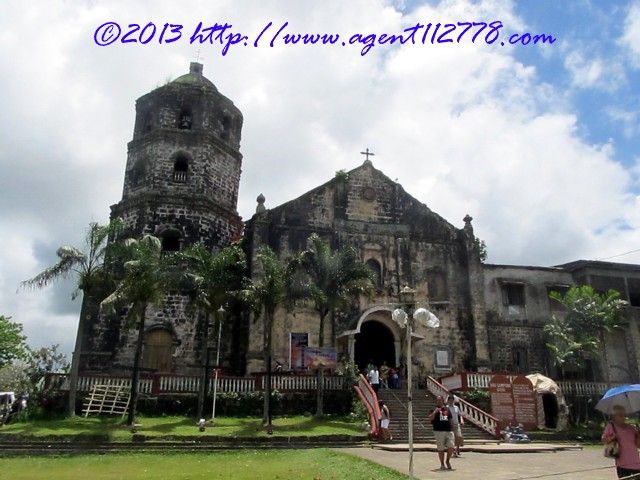 St. Mary Magdalene Church, Magdalena, Laguna
Our next stop was Sta. Cruz Chruch, in Sta. Cruz town and we need to go back on the same route. We are hungry at that time since it was about past 1pm. I just said to them that "since Sta. Cruz is the capital town, we'll just look for a food joint there". So up we go, right turned on a junction in Sta. Cruz then at last we seen the church first before the food joint.
Nuestra Señora de Candelaria (Our Lady of Candles), Mabitac, Laguna
San Pedro Alcantara, Pakil, Laguna
Wow! this church has many images of saints in their cart - we locally call it Karosa. Almost half of the church was dedicated to the images and the next half was for the pews. We arrived in the middle of the mass and Benediction. According to the priest, we - the Catholic faithful - must not do the stations of the cross during the pilgrimage. The Pilgrimage, he added, or the 'Visita Iglesia' taken from the word 'Visita' meaning to visit, must be dedicated to visit the Church and Christ Himself present in the Repository. Our main guide approached me and whispered to me that since we already recited the station of the cross, we might as well finish it. I agreed to her since it was also what I'm thinking. We just simply continued our rituals, so thus the other faithfuls. After a few more minutes, we went to our next stop, Paete Church.
Going to Paete Church was a trial. We went back and forth the highway because of road blockade for the processions. After some ins and outs, we made it to the designated parking space and walked towards the church. I seen a church on my right but one of my companions said to the left and seen that on the left is more old thus we went there.
St. James the Apostle Church, Paete, Laguna
We then head back to our respective cars and went to our last destination, the Chruch in Lumban. After zigzaging inside a residential area, we finally seen the church.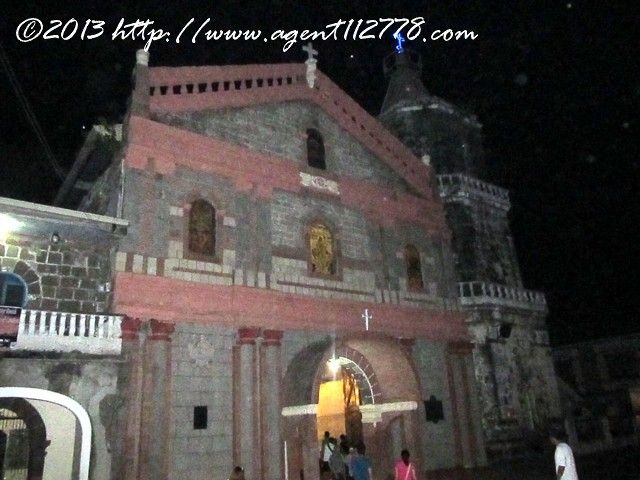 St. Sebastian the Martyr Church, Lumban, Laguna
After our visit, we asked a local on how to go back to the highway and Calamba. After his instructions, we all now on the road to Calamba City. Ate our super late dinner (at round 10pm) and then we prayed for thanksgiving and for guidance to home. We again grouped before the SLEX entry to assure no one will overshoot then all zoom out towards SLEX then to our respective homes.
Final Words:
I do believe that the Visita Iglesia really work miracles and blessings. I should know because everytime I do this, a special blessing comes to me in a form of answered prayer. We do have trials in life and there is only one way for these trails be solved and that is "to call out HIS name".
Thank you so much my SFC NA1E brethren. Thank you for letting me join this trip and praying with you is the most amazing gift i can have right now. Thank you and until next time.