Treasured Friends Forever Award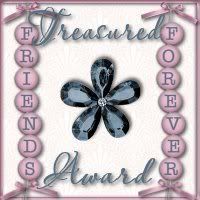 Again thank you
Jacris of Mom's Special Diary
for giving me this Award.
I am so blessed to have to have friends in the websphere thru blogging and social networking.i admit, i never met in them in person but thru our blogs we became friends and made a step closer to know each other and
Jacris of Mom's Special Diary
is one of them.
thus, im passing this award tags to all friends i met and made thru this blog. Its a pleasure to met you and hoping the we can see each other again. and to all people/blogers i want to meet, this award is also given to you.