11 July 2013
Angel's Pizza.Pasta.Combo
Makati Ave., Philippines
Angel's Pizza.Pasta.Combo has new and exciting upcoming promos for all.
Whats NEW?!
Angel's Pizza.Pasta.Combo offers new pizza flavor, the Chicken Parmigiana.
Angels Pizza.Pasta.Combo Chicken Parmigiana in Hand Tossed Crust
What's in it? it has Culinary Cream, Cheddar Cheese, Mozzarella Cheese, Tomatoes. Green Bell Pepper and Chicken Chunks. It comes in two different crust varieties: Hand Tossed or Thin Crust.
Angels Pizza.Pasta.Combo Chicken Parmigiana in Thin Crust
It comes in three different sizes: Medium (9 inches); Family (12 inches) and Big Family (14 inches). You can also ask the crew to cut it into 8pcs wedge or in Chicago cut squares.
This coming 15th of July, they will have two new exciting promos that will sure be of our interest and we can also fully enjoy our Angel's Pizza experience.
First, the
Angel's Pizza Club
card.
For only P299 annual membership fee we will have the following freebies:
1) Buy 1 Take 1 any day on every Family and Big Family sized pizza. We can order up to five per visit;
2) a 25% discount on all pizza purchase;
3) and a Birthday treat of free 1 medium sized pizza in Angel's Aloha or Angle's Bacon and Cheese flavor. Valid for dine-in or carry-out.
please read the card's cover for more details.
Also on 15th of July, Angel's Pizza and Globe Tattoo tied up to give us Globe Tattoo Sonic Internet Stick.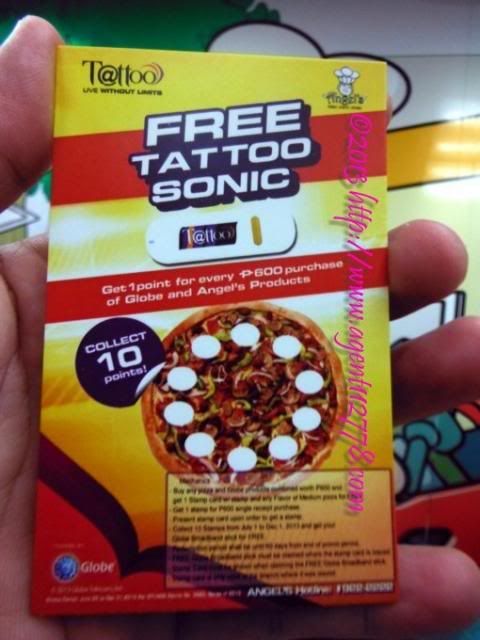 For every 600 pesos worth of Pizza plus Globe products transaction, we will earn 1 point. After collecting 10 points, we can have our own Globe Tattoo Sonic Stick. So dont forget to get card (as photo above) and bring it with you and present it on every purchase so that you will not miss a single point. Just read the full mechanics on the card.
Lastly, come this August, Angel's Pizza.Pasta.Combo will launch its website for fast and easy on-line orders. As of this moment, its in the works so let's all watch out for it in
www.angelspizza.com.ph
---

Photo herein is captured using
Fujifilm Finepix XP100 in
Angel's Pizza.Pasta.Combo
Makati Ave., Makati City, Philippines
last 11th of July 2013