11 July 2013
Modern Shanghai
3/f Glorietta 2
Makati City, Philippines
As promised in Part 1 I will share to you the two set menus that our host shared to us. These menus features all latest items. For this part I will share the "Menu A" and on the next part will be the "Menu B". Me and my sister are on the the longest table and we are 5 in our group thus we are blessed to have both menus. Other tables are either got A or B and they are a group of 4 per table. As a sign of friendship with a common goal, either groups got a change to take pictures on both menus and since both menus have generous servings, all of us got a chance to taste all dishes.

Before I feature Modern Shanghai's newest and latest offerings, let me share to you this first. This is one of the original dishes thus this is not part of the menu. Modern Shanghai's best selling Shandong Style Shredded Chicken.
Its the best roasted chicken I had and its sauce named "Shandong Sauce" is out of the ordinary. We are all familiar with Chinese cuisines like Cantonese and Pekinese but Shandong!? Its new to me and I love it.

Ready your appetite as I present to you the first set of Modern Shanghai's best sellers. Here is Menu Set A.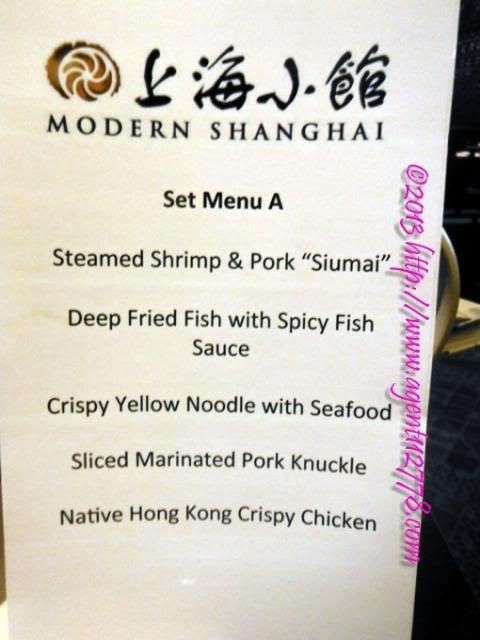 Lets all start with an appetizing treat of dim sum, the good old Steamed Pork and Shrimp Siumai.
Pardon the presentation, the steamer got knock on the table and the siumai. Anyway, it is one of the new items in Modern Shanghai. I love it, it doesn't have an overpowering pork fat taste.
Next is Deep Fried Fish in Spicy Fish Sauce.
At first I thought fish sauce is patis but its not. This is dish is a much better version of Sweet and Sour Fish or Escabeche. Its less sweet, not sour, mildly spicy hot. The fish is not fishy and breadedly good like tempura. The black specks are not taosi but its wood ear mushrooms. I'll definitely try this at my kitchen.
Chinese belief says that noodles symbolizes long life. This Crispy Noodle with Seafood will not only symbolizes long life but unity too. It is a big platter of noodles good for 4 to 6.
The crispiness adds more texture to the dish that will surely excite you to eat. Upon serving, try to taste the noodles so that you can feel the crispiness, for the sauce will wilt it in due time. The sauce is great! ito na ang pinaka saucy na pansit canton.
Next stop will be the Sliced Marinated Pork Knuckles.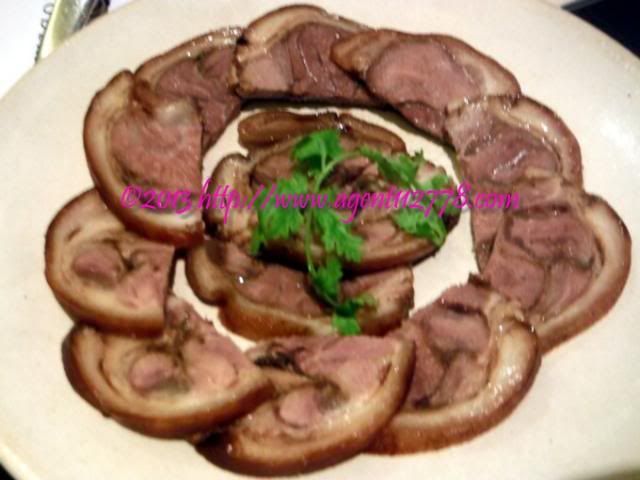 Sliced Marinated Pork Knuckles
The kitchen crew deserves a salute for this one! Look at that slices, its thin and even and I wonder how they deboned the knuckles to present it this way. Taste? good! not porky, super tender and its slightly bland thus you must dip it first.
Lastly, my favorite for this set, the Native Hong Kong Crispy Chicken.
Ms. Lia, the marketing manager for Modern Shanghai, ate with us. She shared a trivia for this dish as she said that only native chickens imported from Hong Kong are used to make this dish thus it has a tenderness with a bite, medio lumalaban. And she is right that slightly not so tender part is I think a character of native chickens and it add more flavor and texture thus its really good. This is not an ordinary fried chicken or chicken emperor, this is far better. As she shared that trivia, I just remembered Jackie Chan's movie "Rush Hour 2" where in the American Detective was lost in the streets of Hong Kong and asked a chicken butcher for directions.

So there you have it the first set of dishes that Modern Shanghai has to offer. Want some more? Then come back again for the last part and I'll share another 5 best sellers in Modern Shanghai.
---

Photo herein is captured using
Fujifilm FinePix XP100 in
Modern Shanghai
3/f Glorietta 2
Makati City, Philippines
last 11th of July 2013