11 July 2013
Modern Shanghai
3/f Glorietta 2
Makati City, Philippines
For the last installment for my first Modern Shanghai experience, I'll share to you our Set Menu B. If in case you haven't read the previous parts, on the First Part I featured the place and the tea we had. Then on the Second Part was the first half of the new items/dishes that Modern Shanghai is offering. For this part would the last half.
To start of, they now have Hakaw, a Steamed Shrimp Dumpling.
Its good! yummy good! the wrapper tasted like its homemade (not commercial grade). The shrimp is a big chuck not ground.
For noodles, they gave us Fried Shanghai Noodle with Seafood.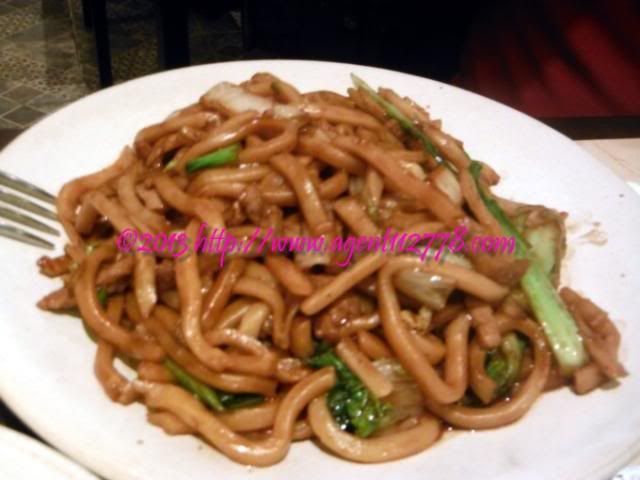 I love the thickness of the noodles, its has a bit texture and somehow bland but the sauce blends it to complete the taste. At first I said I'll eat a little but then I just realized that I already ate alot. Good thing this is my last dish before heading home.
Here's another classic Chinese food that I really love, the Wok Fried Sliced Beef and Broccoli.
I admit, every time I cook this dish, It's always taste like your drinking soy sauce or having a spoonful of oyster sauce strait from the bottle. This dish is far from my cooking. I also love the addition of mushrooms and leeks.
This next dish is my favorite of all dishes served, the Deep Fried Squid with Spicy Salt and Pepper.
Let's admit it! Cooking squid is very tricky! Thus, don't be surprised if youll get a tough squid on this side and a very soft on the other. I love squid, I love the way they salted this dish, the spicy rock salt is separated to the squid thus the squid is not too salty. The topmost part is the most salty all you have to do is to tap the squid first on the plate to shake off the salts. I also love the spicy kick.
Lastly, the most mysterious dish of all the Eight Treasures in Hot Bean Sauce.
I said mysterious because we all guessed what are the eight treasures. Sadly we forgot to asked the chef what are they. I only got: cashews, tofu, leeks, bell pepper and what else???? See! I only got four :lol:. This is worth a try!
Thank You so much Modern Shanghai for this heavy loaded feast and to Ms. Lia as well for being a good host to us, best wishes to your upcoming wedding.
---

Photo herein is captured using
Fujifilm Finepix XP100 in
Modern Shanghai
3/f Glorietta 2
Makati City, Philippines
last 11th of July 2013