18 July 2013
Rue Bourbon
Dela Costa st. cor Tordesillas st.,
Salcedo Village, Makati City, Philippines
Enjoy Philippines (Enjoy PH) is giving us the Enjoy PH Privilege Card. with over Php 350,000 savings in terms of: discounts of 10% to 50%, vouchers, buy 1 get 1 free or free items by just presenting your card or voucher or both.
Before we talk about the card, let share to you first the press launch of Enjoy PH Midyear Book
The party was held in Rue Bourbon, a New Orleans themed nightlife place for food and drinks. The place was filled with party people from Enjoy PH executives, card holders, and partner merchants.
After registration of attendance, we were offered free flowing drinks from: Rue Bourbon's famous "Caramel Beer"; cocktails; and wines from Artisan Cellars.
Me and my sister have a round of beer to quench our long walk to the venue. After this the buffet table was opened. They offered us: Chili Chicken Wings, Pizza, Fish and chips, nachos, creamy carbonara and 'fresh' sticks salad.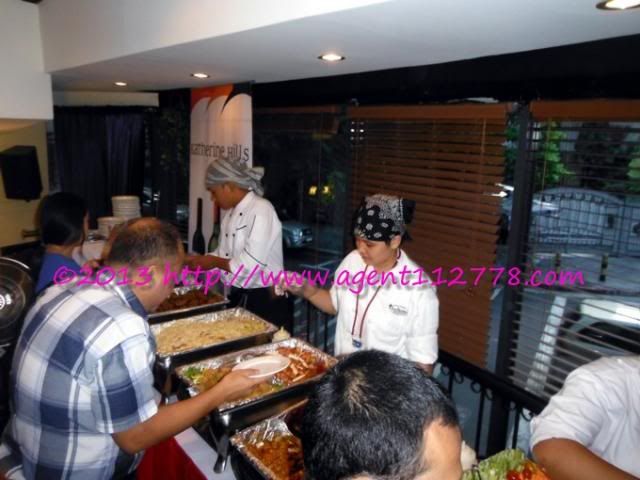 The chicken wings are knock out winner, its so yummy specially if paired with blue cheese dip. Every thing is good too thus I keep on going back for more.
Then the midyear launch follows. They raffled off many Gift Checks and vouchers from both new and old partner merchants. The crowds' favorite was 3 days 2 night stay in Boracay. Luckily me and my sisters won.
Since Enjoy PH have many many partner merchants, the prizes are a lot too. Virtually everyone is a winner. While the prizes are raffled off, I tried Rue Bourbon's famous "Orleans Sling".
I got the recipe for this good drink but I will not reveal it on this entry. The most interesting about this drink is not only for its taste but also from its 'jar' as drinking glass.
After the party, we then went home.
Now, about the Card. To become a member of this great VIP Privilege program we will just pay Php 1,995 annually. Sounds expensive? Somehow but the what's in store is more expensive, the membership is worth almost 350,000 pesos savings from over 250 merchant partners nationwide.
Upon approval of your application, you will be given a tin can that contains the car and the books of vouchers: one for Metro Manila partners, another one for Cebu/Boracay/Davao/Cagayan de Oro partners' branches and another one is for the supplementary book of vouchers for new partners. This said supplementary book is the purpose of this launch.
Each page of the books are vouchers. its divided in to two parts: the small part that perforates serves the instant voucher and the big part that binded in the book is the guidelines for Enjoy PH members' privilege. Each voucher and privilege could be a 10% to 50% discount, or a buy 1 get 1, or free upgrade of items, or a free item. At the back of each page is the rules and applicable branch where we can only get that privilege, so read it carefully.
Let me warn you too that each book is thick enough to be heavy weight, having it always on our bags will become a burden in due time, Thus, Enjoy PH enabled the said books to be available in Enjoy PH App for smartphones like Samsung. iOS will follow soon. For more information, visit
enjoythebest.ph
and like them also in Facebook, Twitter and Instagram.
Do you want to be a member too? Go to the website and click the "join now" box then fill up the online form then in the section "where did you hear about enjoy" please click "memeber/friend referral" then type "username = agent112778" as details.
---

Photo herein is captured using
Fujifilm Finepix XP100 in
Rue Bourbon
Dela Costa st. cor Tordesillas st.,
Salcedo Village, Makati City, Philippines
last 18th of July 2013