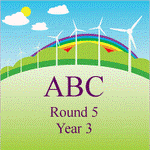 Im so glad that i had completed ABC Round 4, and now as the Round 5 begins, i have enough APPETITE to complete this round.To begin the Round 5, thankfully, the new badge came early.

i linked my Round 5, letter A in the comment box, Mr. Linky is not available that time thus, let me share to you my Letter A entry on this link.

for my entry this week.

Here in the Philippines, we call Bottle Gourd as "upo" (ooh-poh). we saute it w/ onions, garlic, tomato and pork. but others, use canned sardines to cut some budget and time. add a cup of water to until tender add
tiny cubes of bottle gourd and simmer until done. season w/ salt and pepper. other also add anato seeds into hot water soak for 15min, discard the seed before adding this up to the pork.


Have a Great Wednesday to all of us :D
Photo herein are captured using
Canon Powershot A580 in
our community market