Introduction:
I'll be starting a new collection in this blog. I'll call it "Check me Inn". Its about the Inns and Hotels where I stayed for both travels and rest. Please, don't be get the title wrong. My intention for this meme is to share to you my observations and experiences in the featured Inn or Hotel. My entry will surely make or break your decision thus I must forewarn you that this is just my Experience. You might have a different taste or observation thus it will make your experience different from mine. Also, I do not intent to write up something against the featured Inn or Hotel, my intent is to share to you my experience so that you can have some ideas in serving us - the Inn and Hotel Clients - better.
For my first entry I'll feature Go Hotel's Cybergate branch located in Mandaluyong City, the Philippines.
The Story before the stay:
Last October of 2012, I entertained a friend who is visiting me and her family. Her flight was scheduled late night so that she can take that flight after work. I went to Pasay Rotonda Shuttle Terminal past 10pm for I was told that her flight will be 2 hours delayed. I waited for the shuttle to arrive in the middle of the rain. After 30 minutes of waiting I asked a storekeeper where the shuttle office is, to my dismay, the shuttle operates from 6am until 10pm only thus I was waiting for nothing. I walked and hailed a jeepney to NAIA 3. Her ETA suppose to be around 10 - 11pm but she arrived past 1am. The reason? To much airplanes in NAIA.
When I finally met her, I assisted her with her bags and told her that we need to take a taxi since the shuttle service is not available (I shared to her the story above). She agreed and We also both agreed that since it's so late to travel, we will just stay at Go Hotel Cybergate. We both heard last April 2012 from her co-participants in a seminar that they had a pleasant stay in Go Hotel thus it's worth trying out.


Checking-In:
As I said, I first heard of Go Hotel's good service last April 2012. I also checked out their website (
http://gohotels.ph/
) for more information and photos of course so that I can see how the room looks like. In the website, I also found out that the Publish Rate that time was around 1600 to 1900. So I guess it won't go higher than that in just few months but I was surprised! The room is 22++. I asked why, and the front desk clerk told me "The publish rate at the website is Tax Exclusive" then I answered back "No Ma'am! the 18++ I seen in the website is VAT inclusive, I seen it at the end tab of the booking page. "Our rates goes up or down depends on room occupancy - the higher the occupancy, the higher the rate" she answered. "You should had booked in the website for lower room rate" she added. "I don't have a credit card" I said as I handed down our extra fee with a heavy hand.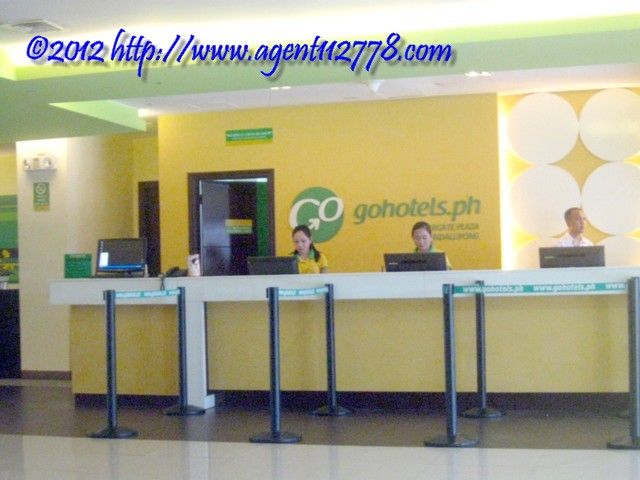 Front Desk
Mental note : disturb a friend with a credit card so that you can book online for that lower rate.
The front desk clerk gave out the instructions and she said about the security doors will only open with a swipe of the card key.
Verdict : Front Desk Staff 5/5; Lobby 4/5; Security 6/5
Room:
Room Space = Good
Rooms are categorized by bed (twin or queen) and by location (window or inside). Each floor have plenty of rooms, based on the evacuation plan, there are about more than 30 rooms.
The room is clean, the WC too. It has clean sheets and towels. The in-room safe keeps on beeping thus I called the front desk to for a utility to check it out. The phone ringsback loud but the voice on the end line is so near mute thus I gave out my request without hearing him/her nicely. Good thing the utility came and I asked him for fix the beeping safe and the telephone. He just removed the batteries. hahahaha.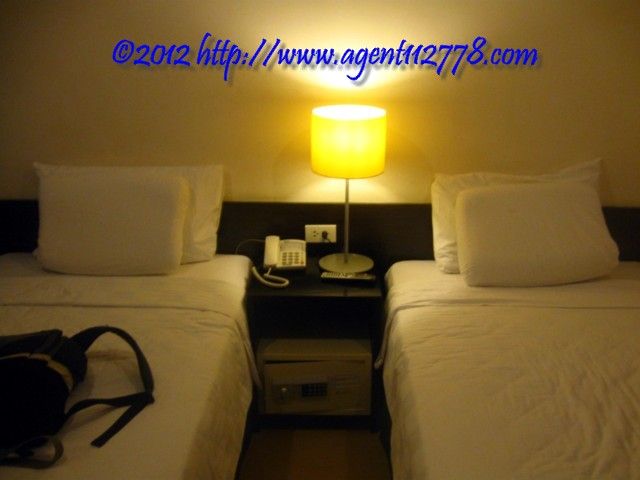 Hot and Cold Shower = yes, with glass see-thru panel and sliding door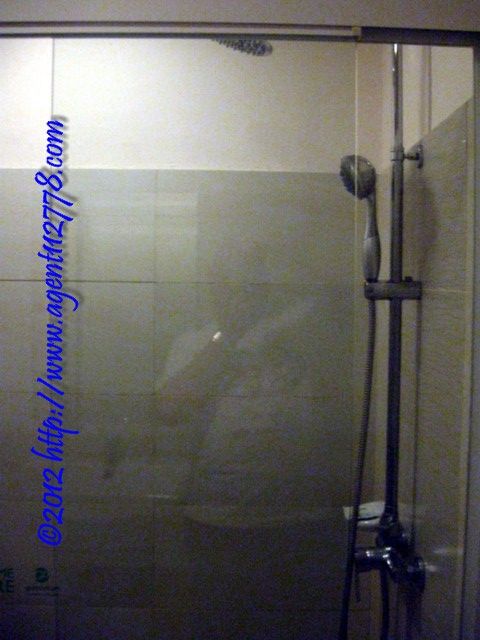 Toiletries (soap, shampoo, toilet paper) = good for 1 person only, you must Purchase a toiletry pack at the lobby shop or better yet, bring your own.
Room = comes with a queen bed or 2 twin beds. we availed the twin bed room each.
TV = yes, Flat screen with cable.
Aircon = yes and its cold even in 20C. On the aircon panel, a notice can be read that they are encouraging us to put the aircon near 26C so that they will have a lower electric bill so that on our next visit, the room rate will became lower too.
WiFi access = yes, but its stronger in floor lobby
They dont have a table and chairs for they discourage eating inside the room, violating this rule will penalize us 1000 pesos. We must eat on the floor lobbies for its equipped with a centralized TV, couches and tables.
They dont have a cabinet so place your bags on the floor or on the bed. Good thing she and be had a Twin Bed Room each, we used the extra bed for our bags.
One strange thing in the WC which is I think far different from other hotels is that they (the hotel admin) asked clients - female clients to be specific - to put the 'pads' in the provided "sanitary bag" before trowing in the waste bin. (Its the small bag on the counter next to the sink and in front of the socket).
WC Space = good
Room Security = key card. so dont forget to bring it with you when you get out so that you can enter the lobby even if the guard is out. You cant leave a gadget charging when you are out, the electricty cuts off about 5 minutes after removing the key card in the slot.

I asked my Friend's verdict about her room we both agreed to these:
Over all Verdict:
Pleasant Stay = 5/5
Breakfast = none, not included
Service = 5/5
Going Back = yes but via online booking no more walk ins.
Recommend to Others = yes
Go Hotels Cybergate = Approve and Recommended
---

Photo herein is captured using
Canon Powershot A580 in
Go Hotel Cybergate Branch
Cybergate, Mandaluyong City, Philippines
last 25th of October 2012