29 October 2012
Isdaan Floating Resto-Fun Park
National Highway, Calauan, Laguna
My GF and I went to her sister's home in Sto. Tomas, Batangas to visit her and her kids plus a quick tour in Laguna-Batangas Area. As part of the Itinerary we went to Isdaan Resto-Fun Park in Calauan, Laguna for lunch after our short stops in San Pablo and Nagcarlan towns (also in Laguna)
Quick facts:
* Isdaan Floating Resto-Fun Park is claimed by others to be located in Bay(,Laguna) but its NOT. It's Politically under the town of Calauan just right after Bay.
* Isdaan Floating Resto-Fun Park is under and managed by Bario Fiesta group of companies, which includes: Bakahan at Manukan; Bario Fiesta; and Singing Cooks and Waiters. Thus the place have four (4) restos in one.
* The First Isadaan Resto-Fun Park is located in Gerona, Tarlac and soon they will open a new branch in Talavera, Nueva Ecija
For the first part, I'll share to you what we ordered. As I mentioned, the place is like having four restos in one place thus the menu is so big and its hard to choose for all of them are a bit pricey but deliciously good.
GF and her sister placed the order as I roam around with her sister's two kids and cousin for a picture taking. Here's what they had ordered and as early as now, I'll tell you that all are so good.
Every fiesta have rice so since we are a total of 6 pax we had two "Bagong Saing sa Kaldero". Each Kaldero is good for 2-3 pax. See that spoon? It's not a normal serving spoon, its just a simple table spoon we used as a serving spoon. Thats how small the pot is.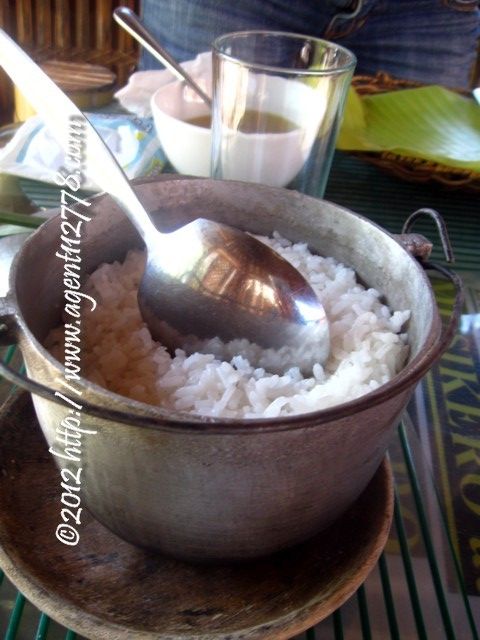 Bagong Saing sa Kaldero
Pros: Nothing beats a newly cooked rice strait for the pot. Much cheaper than ordering individually cupped rice.
Cons : Each pot have burned rice and they are a big waste and it affects the taste. We had about more than a cup of burned rice.
What I do love about their "sisters" tag team, they ordered a dish per food group:
For Appetizers and Salad we had "Enseladang Talong" and "Tinadtad na Mangga"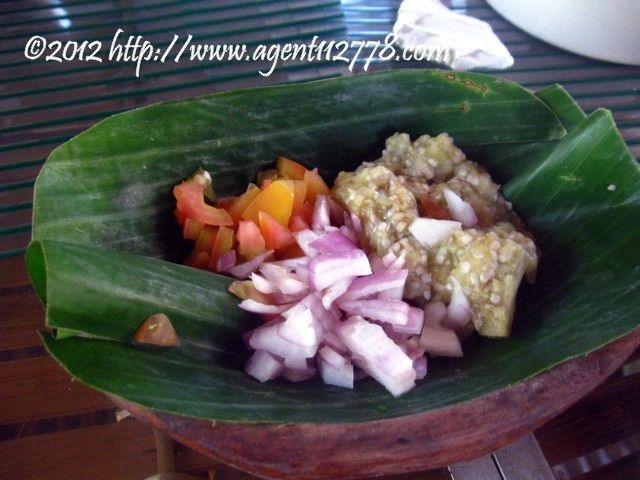 Enseladang Talong
Tinadtad na Mangga
For the pork we had two: "Inihaw na Spareribs" and "Lechon Kawali"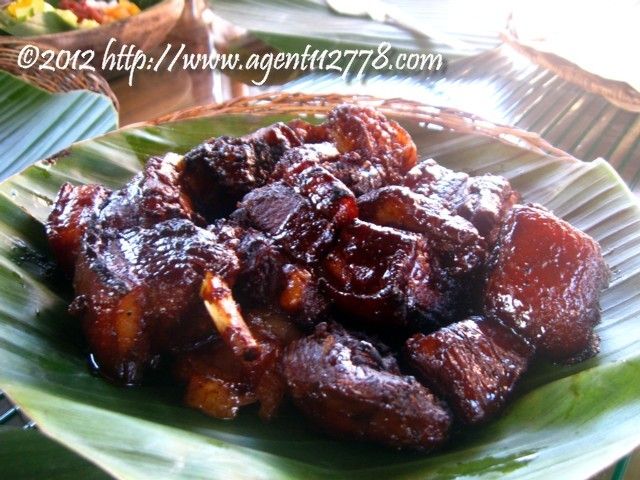 Inihaw na Spareribs
Lechon Kawali
Then as for our soup and chicken we had "Tinolang Manok". GF's Sister said that while we are all away -for our picture taking - they served the Tinola incased in a bamboo tube - Kapangpangans call it "binulo" - then poured in this bowl.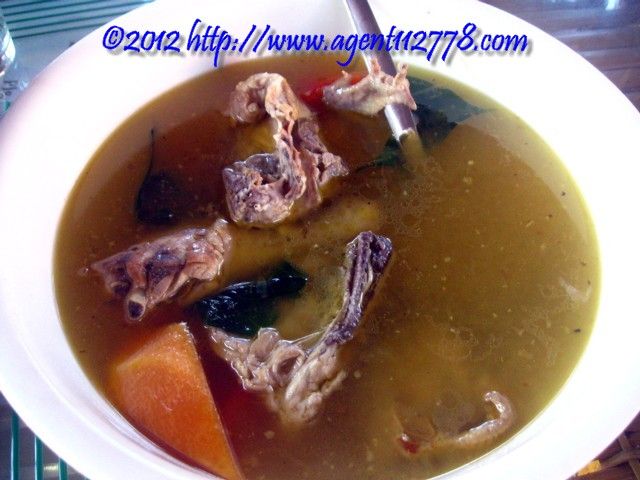 Tinolang Manok
Pro: Serving it in Binulo style makes it more "pinoy".
Con: They used a bit ripe papaya thus it dosen't taste like good'old Tinola.
Lastly to quench our thirst -from our travel, from the sunny heat and as we say "panulak", we had three pitchers of Ice Tea.
Ice Tea Pitcher
Over all Pros: They are all good and Tasty
Over all Cons: for a big guy like me, their serving as somehow not big enough for me. If you share it, you'll all get a bit.
Verdict:
Ambiance = 6/5 you'l be transported to another place like Bali or Thailand.
Food Taste = 5/5 except for the tinola which is 4/5.
Budget = 3/5 its abit high priced compared to its serving.
Service = 6/5 they are so honest, courteous and friendly.
To get there:
*by Bus: Ride a bus en route to Sta. Cruz, Laguna and they will drop you off on site.
*by Private: Right turn after SLEX / ATeX Calamba Exit's roundabout to Sta. Cruz, Laguna just right after Bay-Calauan Boarder (SLEX-Calamba-Los Banos-Bay-Calauan)
---
Photo herein is captured using
Canon Powershot A580 in
Isdaan Floating Resto-Fun Park
National Highway, Calauan, Laguna, Philippines
last 29th of October 2012