San Mig Coffee has a new offering. It is called "Super Pack" for its packed with super features and flavors. Fortified with energy releasing B vitamins (B1, B2 and B6) to make you on the go and in the move.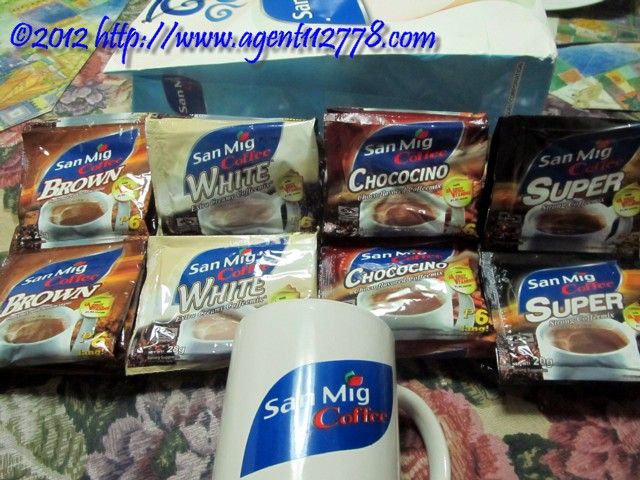 San Mig Coffee Super Packs

San Mig Coffee Super Packs:
"Super" - Strong Coffee
"Brown" - w/ Brown Sugar
"White" - Extra Creamy
"Chococino" - Chocolate flavored
My personal favorite among the four is "super". It's a rich strong coffee taste and aroma perfect to kick start your day. My second favorite is the "chococino" which has this rich chocolate taste without sacrificing its coffee flavor.
The "white" variant has a rich creamy taste and the "brown" one uses brown sugar insted of the usual white sugar thus having a different sweet taste.
Other San Mig Coffee mixes: (source:
http://sanmiguelcoffee.com.ph/
)
San Mig Coffee Instant 3-in-1 Regular Coffeemix:
Mild
Original
Strong
Extra Strong
San Mig Coffee Instant 3-in-1 Sugar-Free Coffeemix:
Mild
Original
Strong
Extra Strong
San Mig Coffee Instant 2-in-1 Regular Coffeemix:
San Mig Coffee Instant 2-in-1 Sugar-Free Coffeemix:
San Mig Coffee Pro Health Coffee:
San Mig Coffee Pro-Beauty
San Mig Coffee Pro-Fiber
San Mig Coffee Pro-Power
San Mig Coffee Pro-Slim
San Mig Coffee 100% Premium Instant Coffee
:
San Mig Coffee 100% Premium Instant Coffee 20 grams
San Mig Coffee 100% Premium Instant Coffee 40 grams
San Mig Coffee 100% Premium Instant Coffee 80 grams
Grandeur Premium Flavored Coffee Blend:
Grandeur Original
Grandeur Mocha
Grandeur Hazelnut
Grandeur Italian Original
Grandeur Flavor Collection